The Cincinnati Flag Society is an organization dedicated to promoting Cincinnati's flag, culture, pride, opportunity, history, and common identity. We will strive to educate the world about the history and symbolism of Cincinnati's flag and foster the motto inscribed on the city's flag "Juncta Juvant" OR "Unity is Strength".
Representation
Currently most of the symbols that represent Cincinnati are related to businesses or sports teams that may or may not represent the interests of everyone. The flying pig concept is the one local exception but it does not hold the historic significance or institutional prevalence of the city's flag.
The Mark
Symbols and visual identity are fundamental components of any strong culture and collective history. Symbols not only represent a people's hopes and aspirations but also tell the story of who they are. Logos, fonts, and color schemes are the most tangible parts of a brand identity and though they are not magical cure-alls for the financial, social, and cultural ills of a city, they can be powerful symbols and rallying cries that spur people to action.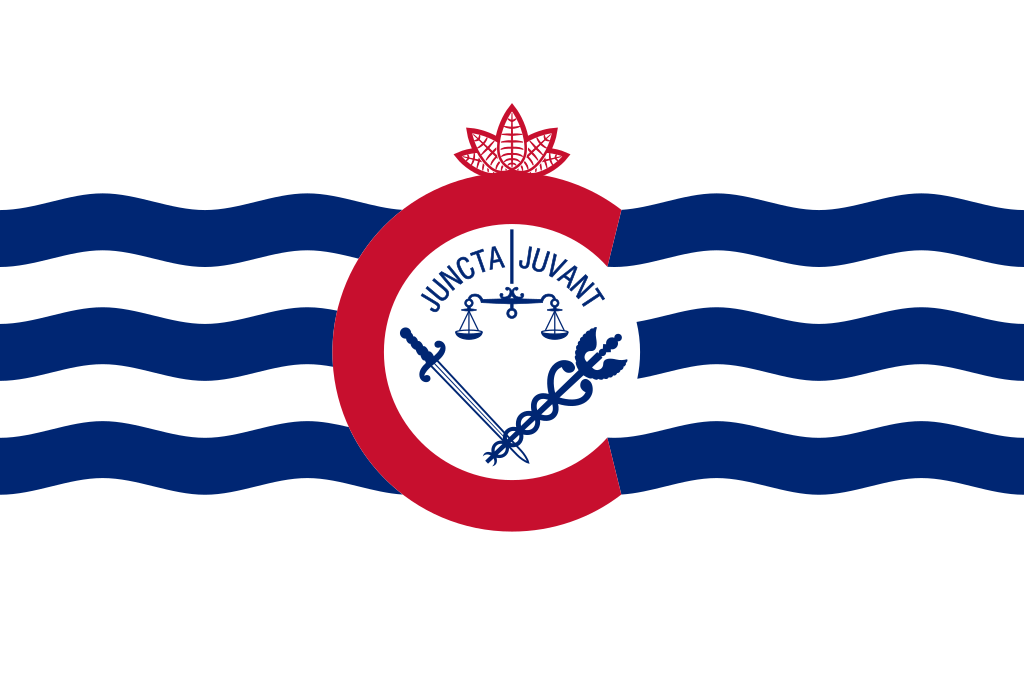 History
The Cincinnati flag design was the result of a contest and the winning design was selected in 1895, but not formally adopted until 1940. The blue color represents the river, the red "C" stands for Cincinnati, and the buckeye leaf on top is for the state of Ohio. The symbols in the center of the flag also all have significance and represent important qualities of a city. The winged rod signifies commerce and the serpents represent wisdom. The scales signify justice and the sword represents authority and power. Lastly, the phrase "juncta juvant" translates from latin to "unity assists" or "it's better to work together".
Our Actions
Cincinnati Flag Merchandise
There is an opportunity for CFS to generate revenue for additional outreach programs by producing Cincinnati-related products. We plan to support local artist produce, promote, and sell their Cincinnati related products. We believe there is ample opportunity to help artists and designers launch products that generate income for CFS, the artist and local business.